I had Monday off. My company is nice enough to turn the 3 summer long weekends into four-day weekends. Hubby was at work, and I woke up full of plans and lists for running around. Before he left, he suggested that rather than doing chores all day, I just relax. I instantly changed into relax mode! Hopped into my bathing suit, grabbed the nearest book and hit the deck to catch some rays.
I was about 200 pages in to my book (which I have since misplaced - grr) when Steve the window guy stopped by to drop off his quote. We are looking at replacing all of the windows in our house. They are 35+ years old, and it is time. His quote came in at 10k, so about 2k less than the other guys. I really like this company and would really, really like to get this done. Hubby still isn't convinced that this isn't something we shouldn't do on our own. Have Steve supply the windows, and we'll install. Personally, I vote for having them install, I can think of much better uses for my time. We were talking about this at the barbeque on Friday, and it was a fairly obvious split. All of the women believed that they would have the windows installed, all of the guys figured it was something they could do themselves. Hubby keeps laughing at me, as last year when we had the roof replaced I was all for us doing it, but I don't want to tackle windows. I've helped changed a roof before, never touched window installation...
Anyways, it was a great day, beautiful weather, and a much needed rest.
Got some cute pics of the pup, I made tuna salad for lunch and he got the leftovers in the can: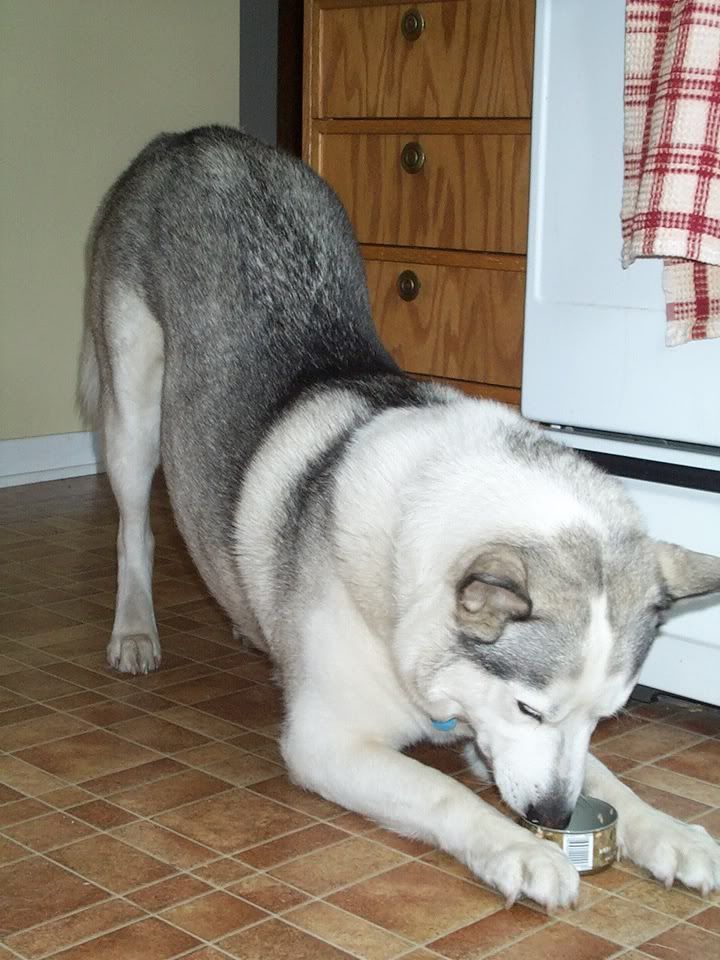 He ate like that the whole time - butt up in the air *g*