Trip to Toronto lots of fun. Drove down Sat am (well I think we arrived around 3). As soon as he walked in it was, 'oh, this place'. He was a sad, tail down puppy as I watched him walk away, but it was only one night and they brought him to the play area right away, so at least he got to see and play with other dudes.

Our room wasn't ready when we hit TO, it was a zoo in there. Hotel is on the corner of Gerrard and Yonge, so fairly busy normally, but this weekend was Pride Week kickoff and the parade, so it was pretty crazy. Wandered down Yonge while waiting for the room, had a shoe emergency, remedied by buying two pairs of cheap sandals. Headed down Queen St. W to the funky shops and restaurants. Ducked into several purely for their AC - it was HAT! Ate din at a place called Tortilla Flats (I think). Pretty darn good. Not the usual Tex-Mex flavours you get used to. The salsa had a nice smokey taste, the guac was great and so were their sauces. Headed back to the hotel to swim and get ready for the show.

One of the reasons we stayed at this hotel, other than the really great rate, was that it is one of two that we have found in Toronto with an indoor waterslide, a big hit with hubby. So into the water we splashed. Hit the hot tub for a bit, but the chlorine really gets to me after a while, so headed back to the room to get ready (was hoping for a nap but no such luck). All showered, we headed out a tad too early, as we weren't sure how far away the theatre was. Turns out is was a few blocks up Yonge, but we still arrived with time to spare. Luckily there was a Starbucks handy, so I got my fix.

Great sense of humour, and really neat effects. I love black light! We were sitting 6 rows from the front, so not enough to get a splatter coat to wear, but near enough to get drowned by the paper at the end of the show. If you have the chance, I really recommend going. Stella and hubby to be had seen them 3 years ago in Boston, but still enjoyed the show. Unfortunately the official camera was separated from the official photogs, so no pics of the show or random Blue Guys. I did however get an 'autograph' - Blue Guy stuck his hand on his head then pressed it to my program *g*

Hit the hay around midnight. Had wanted to go check out some of the Pride celebrations, but whatever I checked out by peering down the sidestreets appeared to have miles-long lines (I refuse to stand in line to go to a bar), and really not something hubby would be into.

Sunday we were up at the crack of dawn (inhumanly early according to Willy and Stella) but we got to pack a lot in. Headed to Fran's for breaky, yummy banana pancakes! Then headed to the CN Tower, as baby sis had never been up to the observation deck.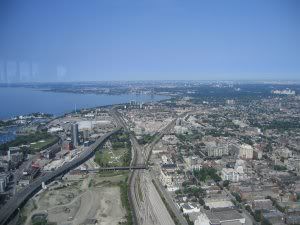 Look waaaaay up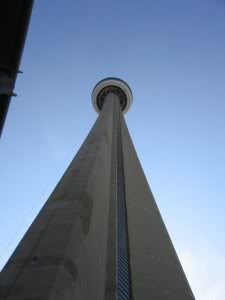 Yep we are 1200ft in the air!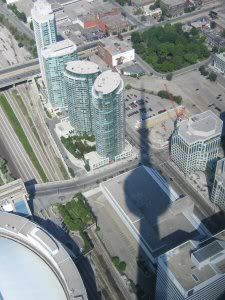 That round thing is SkyDome (Rogers Centre now). Yep football/baseball stadium.

Back on the ground, we meandered back to the hotel, grabbed the car, headed back to Queen St. and stopped at this great little hole-in-the-wall roti place called Ghandi. Yummy Mutter Paneer Roti, and it was the size of my head! I ate half of it, and brought the rest home.

as we started out for home, neither of us will ever back down, but I really wish he would save some of the battles for when we are alone. He says things in front of people that get my dander up and make it uncomfortable for everyone. Put a damper on the first part of ride back, but not the weekend. Luckily Stella and Willy were able to pick out the design for their wedding invitations while we were crabby.

Everyone made it home happy, and a bit tired, and I dashed to the kennel to grab the dude. Got there with 20 min to spare. Very happy to have him home, and to be home.